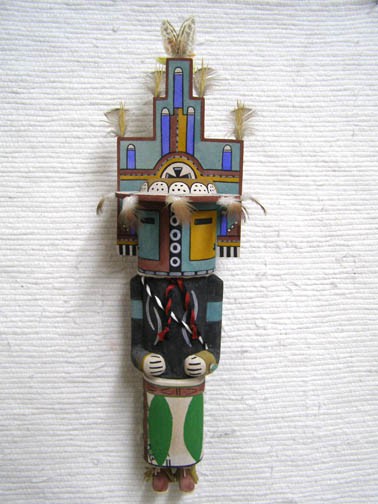 Although it feels like Katsina season has just began, the start of July marks the end of this celebratory time of the year. The Hopi season that coordinates with the month of July is called Talangva, and it is during this time that the Hopi people give thanks to the Katsinam who have brought them blessings throughout the season, continuing to pray for the late summer rains that will help their crops to grow.
Talangva includes the sixteen-day Niman ceremony, also called the Home-Going Ceremony, which celebrates the return of the Katsinam to the spirit world until Paamuya takes place again in January.
Mixed Katsina Dances and feasts take place throughout the days of celebration, with the ceremonies ending when the year's brides are presented their robes by their husbands on the last day of Niman.
Although each year's celebration is a bit different, there are certain figures who typically appear during the Niman ceremonies of Summer Solstice. One of the most well known of these visitors is Hemis Katsina.

Hemis Katsina
Dressed in a red sash and wearing a tablita (headdress) decorated in feathers and wheat tassles, Hemis Katsina appears each year for the Home-Going Ceremony with grown corn that symbolizes a good harvest. He also wears decorated yarn around his chest, a spruce around his neck and carries a rattle in one hand and spruce fronds in the other.
This figure originated in the Jemez Pueblo, where he was a bringer of rain before harvest.
Kachina House offers a wide array of Native American made items, including handmade Hopi Katsina dolls. A beautiful way to acknowledge Talangva and the Niman ceremony, these Katsina dolls make lovely gifts. Purchase yours online or give our Sedona, Arizona shop a call at800-304-3290 to place your order by phone.