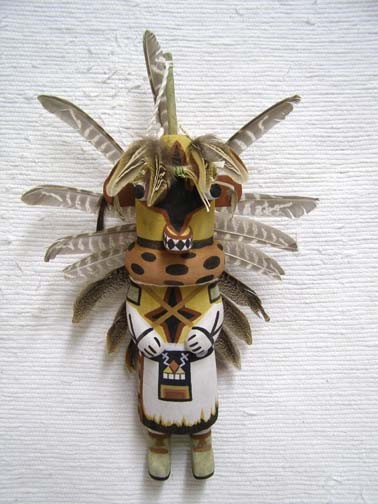 During Hakitonmuya the Hopi people work together to prepare for the growing season. A time when the earliest crops are planted, special dishes are prepared from cornmeal and much hunting is done, each individual is given specific tasks to complete.
Men are tasked with hunting duties and there are certain hunter Katsinam that represent this important responsibility.
Siyangephoya
Called "the left-handed hunter," Siyangephoya is a strong and skillful hunter, though he moves rather strangely. Carrying his bow in the hand opposite that used by most hunters, the Katsina bobs as he moves – always taking small steps.
A'hote
Dressed in an elaborate trailing feather headdress and typically painted in yellow or blue, A'hote is one of the best hunters. He appears in the Mixed Dances and is thought to have originated with the Plains Indians.
Kweo
A powerful and revered figure across Native American tribes, the wolf is an incredible hunter – called Kweo by the Hopi people.The wolf Katsina always has big, sharp teeth and can be seen carrying a stick with leaves. This stick represents the bushes he hides in while stalking his prey; the same Katsinam he typically dances with.
Tokoch
Tokoch, the bobcat, is another powerful animal hunter represented by a Katsina. A watchful Katsinam, he appears when the Hopi people are hard at work and symbolizes a successful hunting season.
Wukoqala
Called "the big forehead," Wukoqala is a good hunter who provides encouragement to the young boys of the village. Although he has not appeared to the Hopi people for many years, he remains an important hunting symbol to the Hopi people.
If you are looking for a gift to give during Hakitonmuya, a hunter Katsinam is a wonderful choice. Home to an extensive collection of Hopi Katsina dolls and other Native American crafts and collectibles, Katchina House is located in Sedona, Arizona. For all your Native American art purchases, shop with us online or by phone at 866-587-0547.