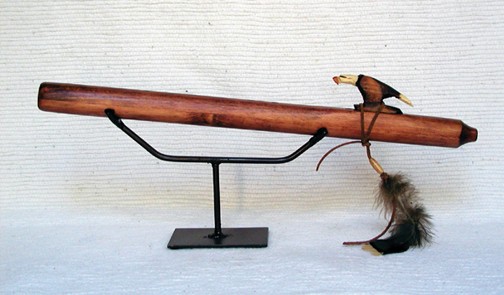 Almost everyone remembers the first time he or she heard the hauntingly beautiful tones of the Native American flute. A vital part of important ceremonies and events, flute music encouraged Native Americans to meditate and contemplate life just as their 21st-century counterparts do. Of special importance to young men who wanted to express their tender thoughts as they courted a lady, it helped them make a favorable impression. Along with the voice as one of the Native American instruments, the flute occupied an essential place in their cultural expression. Known as the Courting Flute, its melodious tones must have created a persuasive presentation of love by many a hopeful young man.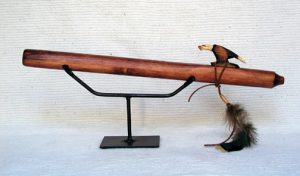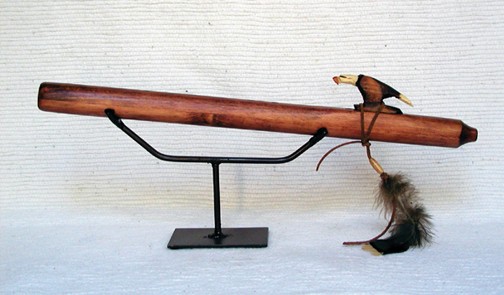 Maintaining Traditions
The acceptance of the Native American flute in tribal life made it important to the cultural existence of the Northern and Southern tribes as well as the Woodlands and Southwestern tribes for sending signals at night. As a frequently used cultural component of tribal society, the flute let Native Americans play traditional songs of love as well as accompaniment for dances or riding. Composers may have originated new Native American flute music for the instrument as they conceived inspirational expressions of feelings for a special someone, nature or life. The pattern of creating and playing traditional melodies over the centuries produced the Native American instruments and song systems that belong to many communities. Never a static way to produce music but always a respected one, the flute maintained the tradition of tribal music and introduced new scores that subsequent generations perpetuated.
Observing a Special Ceremony
Flute craftsmen generally chose to make the instrument from pine, red cedar and redwood. Often carvings of animals decorated the body of the Native American flute, identifying it as the creation of each artisan who carved it. Some contained decorative quillwork, feathers, strips of leather or beadwork. The position of honor that the instrument held in producing Native American flute music allowed it to express cultural traditions that distinguished both the craftsman and the musician.
Finding Ancient Artifacts
Archeological excavations in Arizona's Prayer Rock Valley in 1931 discovered 15 caves, and one of them contained artifacts of wooden flutes in a site now known as "Broken Flute Cave." The Anasazi flutes found there may have produced mystical sounds as early as 620-670 AD. Made of Boxelder, they have holes for six fingers instead of the five on a Hopi flute. Rim-styled flutes challenged musicians to play them, a difficult task rewarded by the emerging strains of beautiful and haunting music.
Online or at our Sedona, Arizona showroom, you can enjoy our collection of flutes and use your imagination to go back in history to a distant place in time. The mystical tones of the flute that the ancestral Native Americans produced and passed down through generations to history and music lovers alike create an unbreakable bond of respect for tradition. Call us at 800-304-3290 or stop by our store at 2920 Hopi Drive and let us help you select a precious find for your collection.