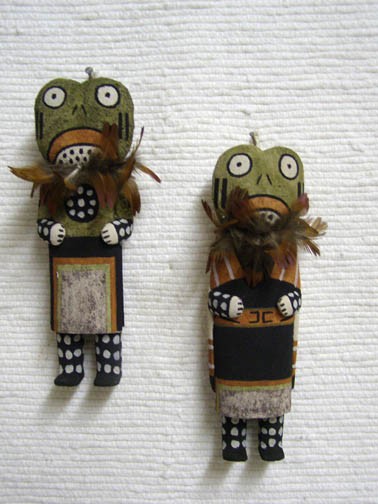 Now that Katsina Season has begun, more and more Katsinam will begin to visit the Hopi people, including the Frog and the Lizard. Hundreds of Katsinam exist, each representing an animal or supernatural being that provides assistance to the Hopi. All of these beings have a specific purpose, particular dances in which they participate, and a message to share.
Paqua the Frog Katsina
Called Paqua, the Frog Katsina is one of the least common visitors to the Hopi people. There are many different stories about his origin, and it is believed that Paqua may have first appeared as part of a prank on Second Mesa. According to stories, rasping "ribbit" noises were heard during a dance at Shungopavi, when all of a sudden the Frog hopped out of a box and joined the celebration.
Frog brings rain and is a representative of water's role in the growth of crops. Paqua is a welcome sight to the Hopi people, even if his origins are unknown.
Monongya the Lizard Katsina
Turquoise in color like the Crotaphytus lizard found across the southern United States, the Lizard Katsina is called Monongya and participates in mixed Katsina dances and the Powamuya Ceremony. One of the Fighting Katsina, he appears at Powamuya to help teach Hopi children right from wrong, in part by scolding clowns for misbehaving.
Monongya is also believed to be a matchmaker, and a Hopi youth will ask the Lizard for help when meeting a girl he likes.
Two unique and special Katsinam that appear during Katsina Season, the Frog and the Lizard are both available as old-style Hopi Katsina Dolls here at Kachina House. To learn more about these characters and to purchase a doll of your own, visit us online or at our Sedona, Arizona showroom.