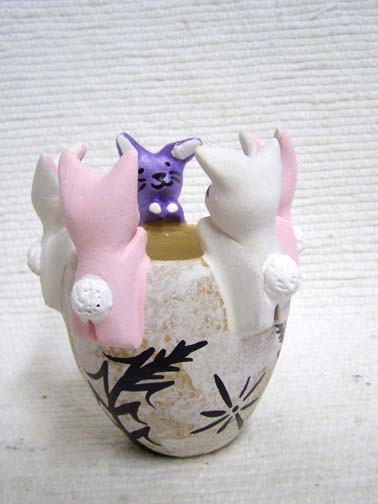 Easter comes early this year and with the holiday just a couple weeks away, you might want to consider a unique gift for someone or a special something to decorate your own home. For individuals with an interest in Native American cultures, Kachina House has wonderful gift ideas to celebrate the Easter season.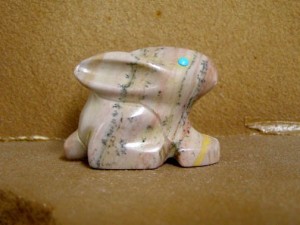 A symbol that is often associated with the Easter holiday, the rabbit is a popular character across cultures, often representing the rebirth that occurs during the spring season. Although the rabbit is not a traditional Zuni animal, it has become a commonly carved fetish and is carved from a variety of materials, including ricolite, Picasso marble, and dolomite.
According to the Zuni people, the rabbit represents gentleness and the importance of family and is a special guardian to pregnant women, bringing them safe childbirth and their children's long life. The rabbit also symbolizes the ability we have to face our fears and avoid making them our reality.
Here at Kachina House, we have many different rabbit fetishes, including a fetish carved from dolomite with stripes of pink and yellow across its body – the perfect colors for the Easter season.
Not ready for the winter season to end just yet? We also have a snow bunny fetish complete with a set of skis!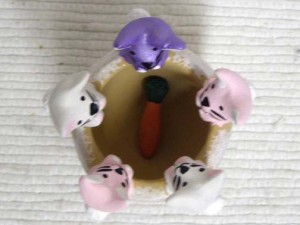 One of our very favorite Easter accessories is this handbuilt and handpainted bunny friendship vase, complete with five adorable pink, purple, and white bunnies around the outside and a tiny carrot at the bottom of the vase. The perfect gift to give to the hostess at your Easter celebration, this vase combines Native American culture and the Easter holiday in a fun and unique way.
To view all of the rabbit fetishes Kachina House has available and to find an Easter-themed piece of Native American art, visit us online or give us a call at 866-587-0547. Visiting the Sedona, Arizona area? Stop by our showroom at 2920 Hopi Drive.