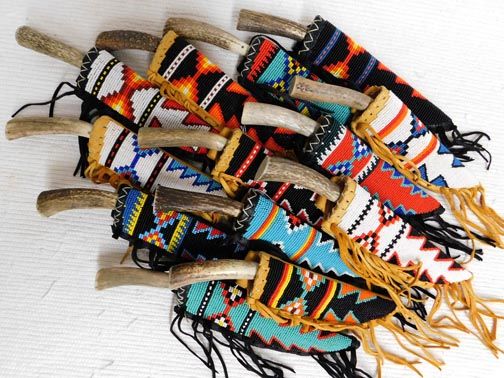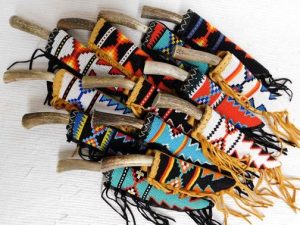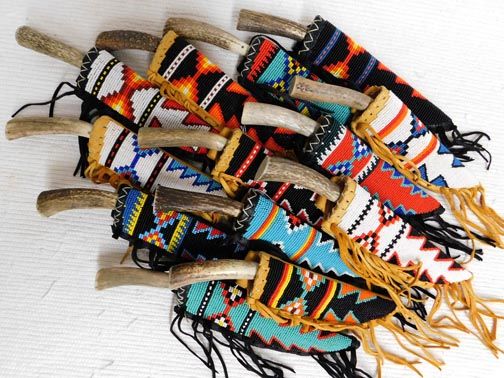 Beads play an important role in Native American crafts and designs have become more and more intricate. Today, metal, glass, shells, and stones are used to produce Native American beadwork patterns that are present in fashion and other decorative pieces.
In early times, tribes used simple items from hunted animals to create ornamentation. With the development of stone tools, it became easier to create holes for beads. Eventually, tribes began using semi-precious gemstones as trade routes expanded. For instance, jasper and turquoise were popular and were paired with silver and copper metals. In many ways, beadwork patterns became symbols of wealth. They played key roles in ceremonies, rituals, and celebrations.
Today, Native American beading is found in many artifacts. Each pattern provides a different perspective and stands as a remembrance of tribal traditions.
Popular Native American Beading Styles
Some beading styles include threads that are used to create patterns for jewelry and other accessories. Some include stitchwork that is placed directly onto the material. Many times, beads are used to create large pictures. Each pattern is unique and involves different stitches.
Lazy Stitch
With this technique, Native Americans use an overlay stitch that includes beads. Everything is attached to fabric at the ends. This is most commonly used to create large patterns with one color. The number of beads used is one way to identify what tribe completed the project.
Loom Work
Looms are used to create large strips of beads that do not rest on a fabric backing. Usually, these are used to create belts or hair decorations. Originally, these patterns were utilized mostly by the Plains Indians.
Ground Stitch
When a loom or fabric backing is not used, some Native American tribes use a ground stitch to create a design. This includes laying a tube of beads around an object. For example, this stitch is utilized to decorate basket handles and similar objects. With close examination, a person will notice that this pattern has a number of beads that can be evenly divided by three. Keychains and necklaces are often made using this stitch.
Brick Stitch
The brick stitch uses a similar technique to the ground stitch, but it does not have groups of three in the pattern. Also, it remains flat. The beads are arranged horizontally so that the end results are flush with a surface.
Beaded Appliques
Appliques are separate ornaments that are attached to other things. The beaded designs are formed on a small piece of material before being sewn onto something else. Many times, large patterns are formed on a loom. Then, they are placed on backing. Since many appliques can be joined to create a large design, the beading can get quite intricate.
Uncover the Beauty of Native American Beadwork Patterns
Even though many people are not aware of the history behind Native American bead patterns, they are fine works of art. If a person wants to appreciate the beauty and tradition behind this beadwork, Kachina House offers a variety of items. For authentic Native American beaded artifacts, it is possible to shop our beautiful selection of handmade jewelry, prayer fans, medicine bags, and knife sheaths. An individual can visit our website so that he or she can select pieces that speak to his or her style.
For some further reading on this, check out Nordic Needle's blog post about Native American Beadwork!