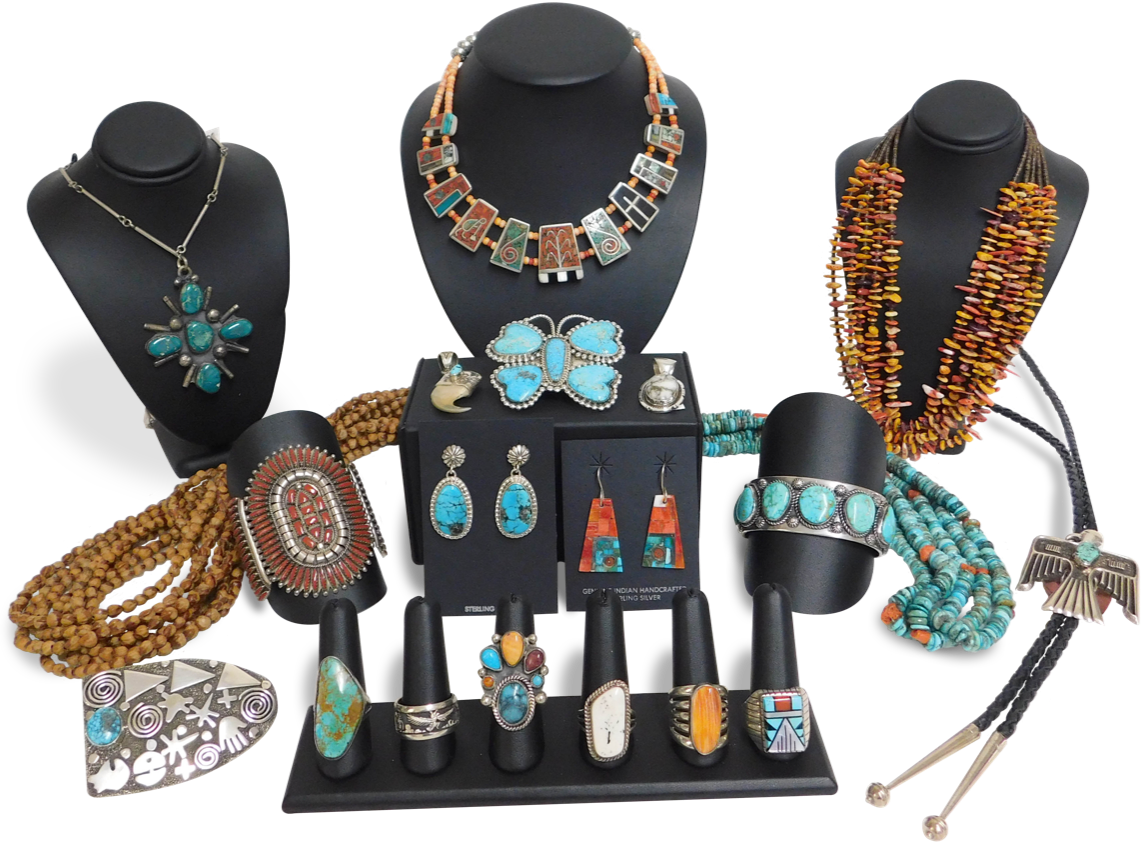 Wondering where to buy authentic Native American jewelry? Look no further than Kachina House for a vast selection of authentic necklaces, earrings, rings, bracelets, bolo ties, pins and pendants, and belt buckles. I can guarantee you'll be pleased with the options available and the quality of the products.
Here's a closer look at the types of jewelry you can expect to find at Kachina House. No matter what personal style you're hoping to evoke, you're bound to find something that matches your look.
Earrings
Native American earrings are crafted by artisans from tribes around the country. The exact style varies according to tribal traditions and the particular tastes of the artist. At Kachina House, you can find everything from hammered circles with turquoise stones to Navajo-made earrings with feathers.
Rings
Nothing adorns a hand with grace and beauty like an expertly crafted Native American ring. Made with natural materials and carrying the mark of its maker, each ring embodies its own bold persona. From subtle rings of sterling silver to brilliant pieces with multicolored stones, there are all sorts of styles available for purchase.
Bracelets
Bracelets have a long history of importance in many Native American cultures, with each tribe adopting its own style. While Hopi bracelets depict shapes and symbols using overlay, Navajo silversmiths prefer set stones and stamped designs. Zuni artisans, meanwhile, have made a name for themselves by crafting colorful bracelets with inlaid stones with silver separators or petit point stones set in a blossom or in rows.
Necklaces
Native American necklaces can add a bit of tradition and originality to any outfit. From Navajo squash blossom necklaces to Zuni fetish pieces, you'll discover a remarkable variety of styles among Kachina House's wares.
Bolo Ties
These gorgeous neckpieces of Native American origin have become popular throughout the western United States. Native American artisans, their original creators, continue to excel in their production. Zuni, Hopi and Navajo silversmiths add all sorts of individual flourishes, from inlaid stones to intricate carvings.
Pins And Pendants
Pins and pendants are as versatile as they are stylish. You can pin them on your clothes, hang them from a necklace, or attach them to a bracelet. Native American artisans craft a wide variety of pendants, some with features such as bear claws, turquoise, and oyster shells.
Belt Buckles
Nothing symbolizes the American West like a bold, brilliant belt buckle, and Native American artisans provide some of the most gorgeous specimens on the market. The Navajo, Zuni, and Hopi have all perfected the art of engraving, crafting buckles that catch the eye in just the right way. The intricacy and precision of the artwork never ceases to astonish.
Kachina House, a wholesale Native American art dealer of impressive proportions, boasts a wide variety of authentic Native American jewelry. Whether you're shopping for yourself, looking for gifts, or stocking a retail store of your own, you'll have no trouble finding what you're looking for among Kachina House's selection.