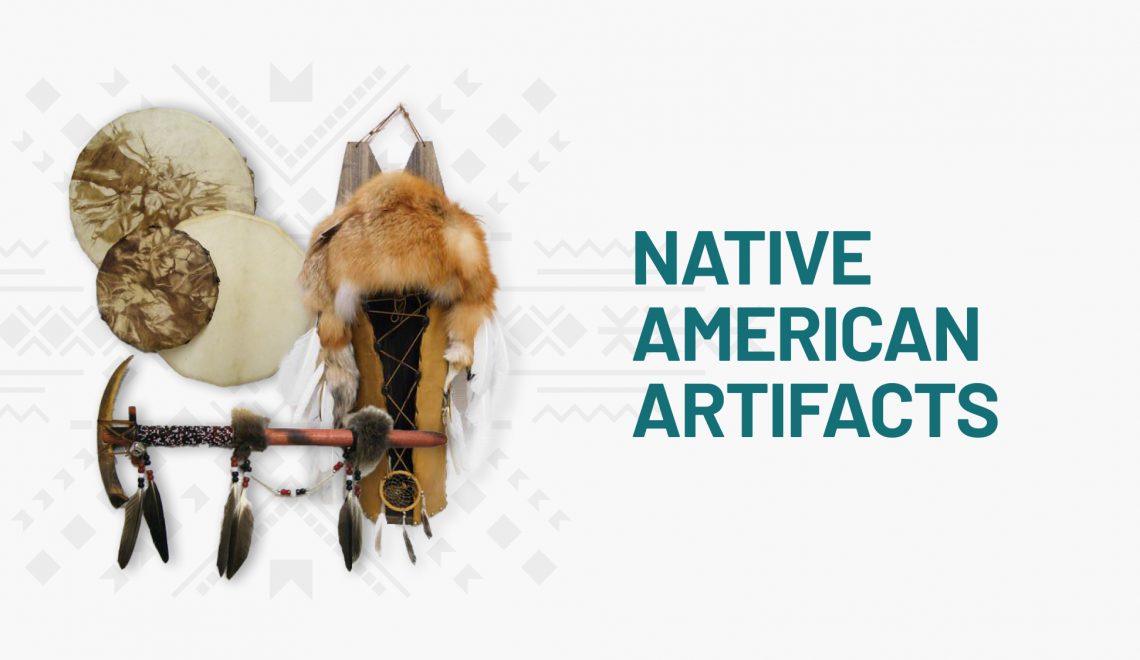 Learning about Native American artifacts can be a fun and exciting experience. Artifacts can help us to better understand Native American ways of life. Each artifact has a fascinating history and cultural purpose. While some items can be easy to identify, others may hold specific meanings to Native people or may be used in unique ways. Use this guide to better understand artifacts such as bows, breastplates, dreamcatchers, dance sticks, trail markers, drums, medicine wheels, tomahawks, quivers, pipes, prayer fans, warbonnets, and more.
Bows with Arrows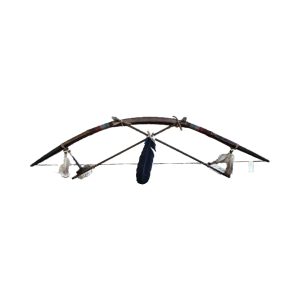 Beyond their functionality of hunting and protecting the home, bows and arrows were also used to symbolize friendship and peace between tribes. Traditionally, when approaching an unfamiliar home, if the bow and quiver were hung separately outside the home, then the warrior had them at the ready for any trouble. If the bow had arrows tied across the front of it in an "X," that indicated they were at peace. 
Crafted and accented with natural materials, we offer a variety of bows and arrows. Each piece is created here in the southwest by Native American craftspeople and comes with a certificate of authenticity.
Breastplates and Chokers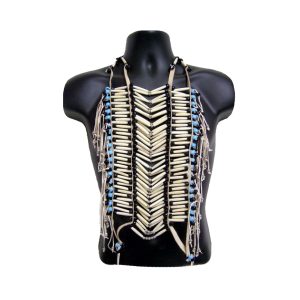 Native American breastplates were worn into battle by warriors and protected them from arrows and spears. They were made from a variety of materials including bone hair-pipe, deer hide, and glass beads. After the introduction of the bullet in the late 1600s, the breastplate had no purpose except to give the warrior a sense of personal strength. Choker necklaces and mini-breastplates are smaller items used primarily for adornment.
We have a selection of Native American choker necklaces and breastplates.
Cradleboards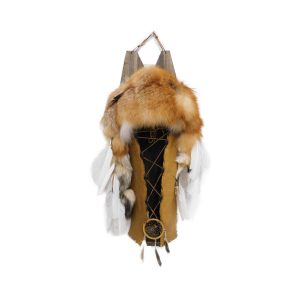 Traditionally, when a birth was expected in a tribe, the father of the child would begin constructing a cradleboard for the child's mother to use to swaddle and carry the baby. Not only did the cradleboard provide safety and support, but the tight swaddle of the blankets kept the infant calm.
The boards were typically fashioned from wood or woven like a basket. Generously decorated cradleboards were a sign that the tribe and the family had highly anticipated the arrival of the newborn. In some cases, cradleboards were handed down through the family. 
We have a selection of traditional cradleboards.
Dance Sticks and Trail Markers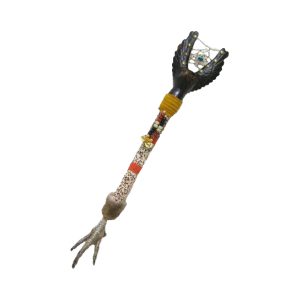 Native American dance sticks are traditionally used by braves and warriors as they dance at ceremonies. 
Though no longer in use today, trail markers were used by a clan or family to mark a trail. These artifacts would be carefully crafted from natural materials such as wood, feathers, and bone.
Our dance sticks and trail markers are crafted by Native American Indians with great attention to detail.
Dreamcatchers and Medicine Wheels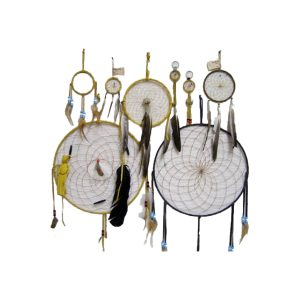 The dreamcatcher is a classic Native American item that is widely used all over the world for its functionality and decorative appeal. Traditional dreamcatchers are made with willow, or other vines which forms the hoop or circle; the weaving is made with sinew; and the bottom of the dreamcatcher typically has feathers hanging down.
Similarly, medicine wheels are circular with feathers hanging at the bottom. However medicine wheels differ in that they have only four spokes, representing the four sacred directions.
At Kachina House we offer traditional willow dreamcatchers as well as more contemporary forms with metal rings wrapped in leather. 
Drums and Flutes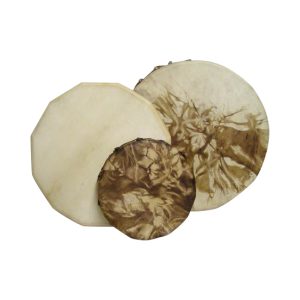 Music holds an important role in Native American culture, used for various purposes including recreation, healing, and expression. Drums are handmade from materials found in nature, including wood and animal skin, they feature unique images–paint and often gems for color.
Flutes are instruments of music, ceremony, entertainment, courtship and love. Some Navajo medicine men say a girl will find irresistible the boy who plays the flute for her. Most traditional Navajo flutes were made from sunflower stalk; today the flutes are evolving into a medium of artistic expression that uses a variety of materials. Our flutes are hand-crafted from pine or cedar and are finished with an animal totem.
At Kachina House we carry a selection of Native American musical instruments, handmade by artists from various tribes. We offer mother drums, two-sided drums, tom-toms, hand drums, flutes, and rattles.
Hatchets and Tomahawks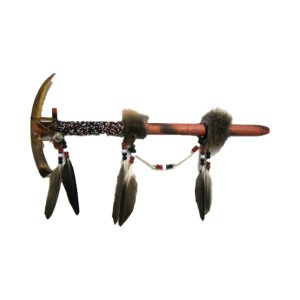 Historically, Native Americans used their tomahawks for general purposes. The tool was lightweight and easy to manage with one hand, making it perfect for cutting and hunting. Many times artistically crafted tomahawks or hatchets would be given to the chief of the tribe as a symbol of the warrior's loyalty to the chief.
At Kachina House we carry a selection of Native American hatchets, tomahawks, knives and skullcrackers, handmade by artists from various tribes. These include metal and brass hatchets, jawbone, deer horn, and stone tomahawks.
Knives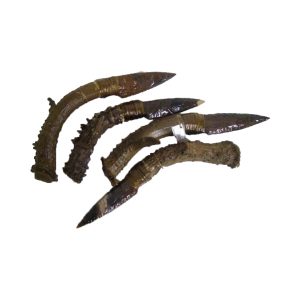 Knives are personal items for Native Americans and other indigenous people. Knives were employed in close-quarter fighting or thrown from horseback. A hunter or warrior would carve a blade from the bone of a large game animal. To create a handle, one might tie an antler or stick to the base of the blade with leather for a better grip.
At Kachina House we carry a selection of Native American knives, handmade by artists from various tribes.
Spears and Arrows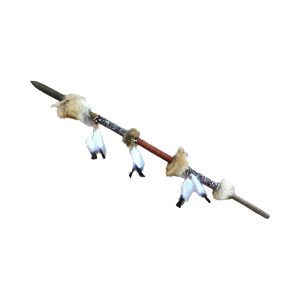 Native American spears (lances) are either simple wooden shafts with a tip attached with sinew to the shaft for battle or decorated pieces that were carried into a dance or a ceremonial event by warriors. Each individual warrior would decorate his own with symbols of his victories.
When creating arrows, the arrowhead was typically made from a knapped stone or bone. The blade was carefully hand crafted to be aerodynamic and sharp.
At Kachina House we carry a selection of Native American lances and arrows, handmade by artists from various tribes.
Medicine Bags, Pouches and Handbags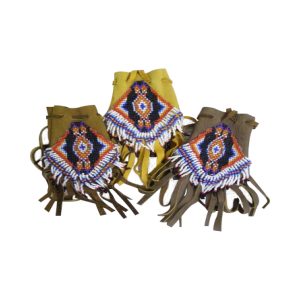 Traditional medicine bags were crafted using available materials, commonly tanned hide. Many Native Americans would carry a medicine bag or pouch. These bags would hold sacred tobacco, herbs, sage for smudging, personal power stones and crystals, and fetishes. 
At Kachina House we carry Native American medicine bags, pouches and handbags, handmade by artists from various tribes.
Pipes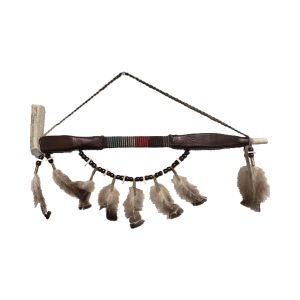 Native American pipes are typically made with a stem of wood covered with either rawhide or buckskin and fringe. Deer or elk horn is often used for the bowl and mouthpiece. A medicine bag or medicine wheel is sometimes attached as are beads and feathers.
At Kachina House we carry Native American pipes, handmade by artists from various tribes.
Prayer Fans and Feathers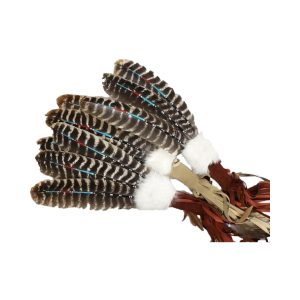 Native American prayer fans are an integral part of Native life. The Ancestors believed a prayer fan had considerable healing power and would dispatch a prayer to the heavens through smudging and draw healing power from the sky.
We offer a large variety of prayer fans, ceremonial fans, spirit fans, medicine man fans and prayer feathers, with many sizes and styles.
Quivers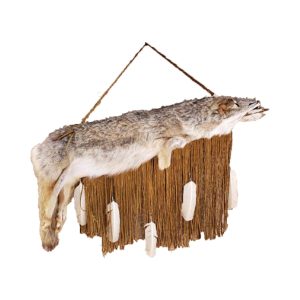 A quiver is a highly personalized item. Native American men would be given small quivers as young boys and as they became men and warriors, they would craft larger or full-size quivers. Some quivers would be covered in a prized pelt showing the hunting prowess of the warrior.
Our quivers are handmade by Native American artisans and come with certificates of authenticity.
Rattles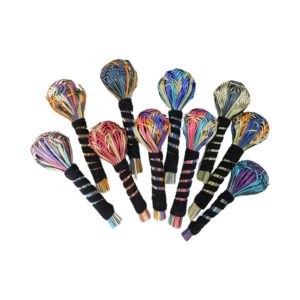 Native American rattles play a role in tribal dances and ceremonies and are a common sight at powwows. They're also used with hand drums in drumming circles to keep the tempo and to add a different instrument to the group.
At Kachina House we carry Native American rattles, handmade by artists from various tribes and accompanied by certificates of authenticity.
Shields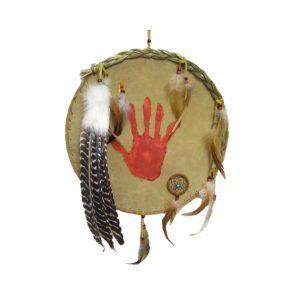 Most Native American tribes utilized some form of shield, but those created by the Navajo, Comanche, Apache, and other large Western tribes tend to stand out due to their size, beauty, and complexity. 
Traditional Native American shields generally fall into the following three categories; war shields, medicine shields, and ceremonial shields.
At Kachina house we offer several sizes and styles of shield handcrafted by Native American artists.
Warbonnets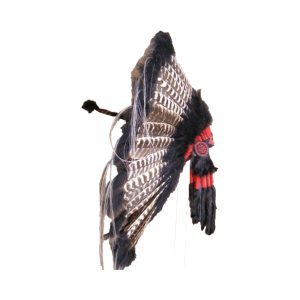 Warbonnets were crafted with eagle tail feathers and often decorated with beading and ermine skins. These important ceremonial regalia were worn only by male chieftains and warriors who had earned each feather through an act of bravery or completing a valuable deed for one's own tribe.
At Kachina House we carry Native American warbonnets and headdresses, handmade by artists from various tribes.
Conclusion
Native American artifacts were made from a wide variety of materials, many of which can withstand the tests of time. For example, stone was used to create arrowheads, knives, pots, and other everyday items. While many people think of stone when they picture artifacts, Native Americans also used bone, shell, and metal to create tools, pottery, and jewelry. All these materials tend to be sturdy, which is why people are able to find them thousands of years later. Contemporary artifacts are usually made of similar high-quality, natural materials.
Artifacts are a great way to learn about the rich culture of various tribes. Whether you have found an artifact that you need help identifying or want a beautiful piece to honor Native Americans, we are here to help.
Kachina House honors various tribes by offering a wide range of Native American art and pottery. Each handmade item is crafted by Native American artists using natural materials. Some artifacts may include a certificate of authenticity. To see Native American artifacts and crafts in person, visit the showroom in Sedona, AZ.