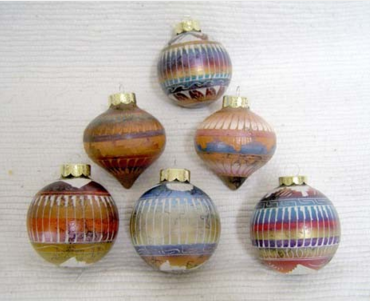 With Christmas only a couple of months away, now is the perfect time to start shopping for gifts for your loved ones. Whether you are looking for a hostess gift to bring to a friend's party, a gift for a Christmas exchange or decorations for your own home, ornaments from Kachina House are a great choice! We have a variety of styles available, all made by Native American artists.
Pueblo Wedding Vase Ornaments
Share these wedding vase ornaments with recently married loved ones. The first Christmas together as a married couple is an exciting and memorable one and these ornaments are a beautiful symbol of a couple's first year together and the bond they share. Painted in the likeness of Pueblos; place a Christmas light in the back of your ornament to light up the windows. We also have Pueblo ball ornaments that light up the same way.
Horsehair Christmas Ball Ornaments
Created using the horsehair pottery methods, these ball ornaments are then painted and etched by Navajo artists. Each ornament is one of a kind, with a unique pattern and coloration. Our Kachina ball ornaments are also made using horsehair pottery with both red and white clay. With a handcrafted Kachina inside, these intricately designed ornaments will look great on any tree.
Beat the holiday rush and get your Christmas shopping done early this year with Kachina House. Cozy up on the couch and visit us online to place your order.