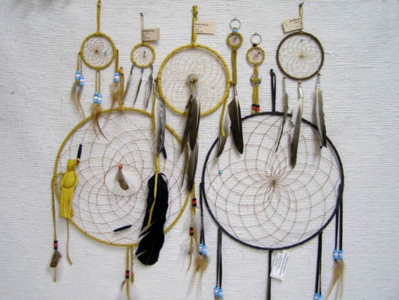 Originally crafted from red willow, sage and deer sinew, dreamcatchers have had an important place in Native American culture for many years. Hung above the bed, this hoop-shaped piece has the ability to catch dreams before they reach the sleeping individual, tangling the bad dreams in its sticky web and allowing the good ones to pass through and gently reach the sleeper. The bad dreams that become tangled up are destroyed by the first rays of morning sunlight.
Crafted by parents for their newborn babies, a child's first dreamcatcher is hung from the hoop on their cradle to protect their innocent dreams from the troubles of the night. Created in an array of colors and sizes, dreamcatchers are decorated with pieces of everyday life; arrowheads, beads, feathers and more.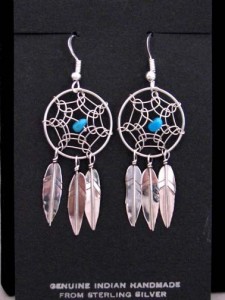 Kachina House offers a wide selection of Native American made dreamcatchers, ranging in size from two inches to 12 inches in diameter. Keychain dreamcatchers, dreamcatcher coup sticks and medicine wheel/dreamcatcher combinations are also available. A beautiful gift for children especially, a dreamcatcher will make anyone feel safe and secure as they go to bed each night.
Another great gift option for the upcoming holiday season is a pair of dreamcatcher earrings. Intricately made in sterling silver with turquoise or coral stones, these earrings are a delicate and unique addition to any jewelry collection.
Ward off yours or your loved one's bad dreams with a dreamcatcher from Kachina House. Made by Navajo artists from a variety of materials, including willow, leather, feathers and string, each dreamcatcher is one-of-a-kind. Visit us online or stop into our Sedona, Arizona showroom at 2920 Hopi Drive to find yours today!