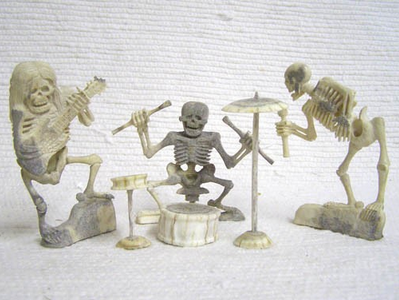 As the weather grows cool and the leaves begin to change color from cool green to fiery orange and red, it is obvious that fall is here to stay. October's beginning brings with it the excitement of Halloween, as families begin carving pumpkins and decorating their homes for the holiday. Consider incorporating a Zuni fetish into your decorations this season. From the bat to the skeleton rock band, there is something to match every taste.
Zuni Carved Bat Fetish
Popular Halloween creatures, bats are considered by the Native Americans to be guardians of the night. Created by Lewis Malie, this bat fetish is carved from antler and has bright turquoise eyes. The only mammal that flies, the bat fetish is perfect to keep with you on Halloween night.
Zuni Carved Owl Fetish
The protector of the home and an essence of true wisdom, the owl is also a Halloween tradition. Keep your home safe on Halloween night and throughout the fall season with a Zuni carved owl fetish.
Zuni Carved Cat Fetish
Avoid crossing this cat's path on Halloween night! Beautifully carved from Belgian marble by Bremette Epaloose, this black cat makes a fun gift for cat lovers this season.
Zuni Carved Skeleton Band Fetish
An awesome piece to place on your mantle during the Halloween season, this skeleton band was intricately carved from antler by Esteban Najera. From the guitar strings to each rib, there are new details to see each time you study this six-piece set.
Whether you are looking for a unique piece for your home or a gift for a friend this fall, Kachina House has some spooktacular options. Visit our online site or give us a call at 866-587-0547 to find the fetish you are looking for. If you're in the Sedona, Arizona area, stop by our showroom at 2920 Hopi Drive to see all we have to offer. Enjoy the fall season and have a happy Halloween!

Sources: http://www.zunifetishstore.com/?view=about-zuni-fetish