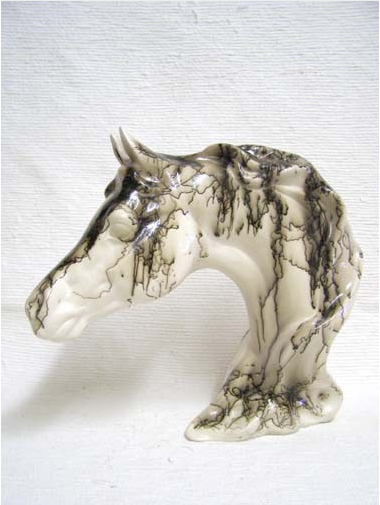 A Native American art form developed hundreds of years ago, horsehair pottery is used to make detailed animal figures as well as classic bowls and pots. Created to honor a favorite horse or to celebrate the birth of a foal, the animal's coarse hair creates dark, clear lines in the sculptures.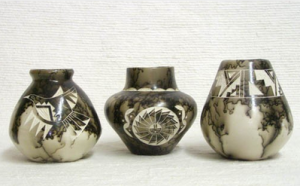 A long-haired maiden was said to create the first of this style by accident when her hair brushed against the pottery as she was taking it out of the kiln.
Pieces are created from a mold, air dried, then fired for a period of time and removed so the horsehair can be added. Once mane and tail hair are draped across the pottery, it is returned to the kiln and it continues firing during the "smoke" stage. During this time, dark lines form where the hair was placed, with smoky grey areas from the fire surrounding them.
After the firing is complete, etching and painting is done to further decorate the piece. Each tribe and individual artist uses particular markings and designs.  From buffalo to horse and wolf figurines, wedding vases and jewelry boxes, there are a variety of beautiful designs to choose from.
Visit Kachina House online to view our artists' work or stop by our Sedona, Arizona shop to view these works of art in person. Contact us online or by calling 800-304-3290 with questions or to find a particular product.