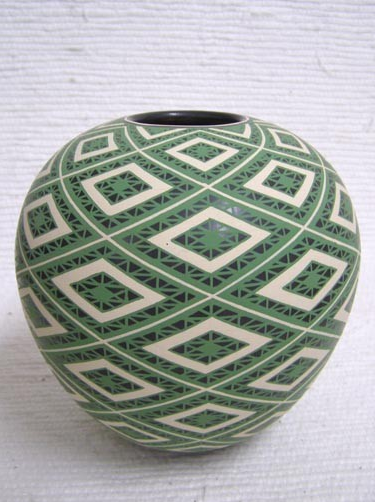 Some of the most beautiful and intricate contemporary ceramic pieces in the world, Mata Ortiz pottery is made from locally dug clay using the methods that Native American potters have used for hundreds of years. These beautiful pieces are made in Mata Ortiz, a village located in Chihuahua Mexico. More than 500 of the Village's inhabitants craft both traditional and contemporary pottery, recreating and reimagining pots, vases and effigies in the likeness of century old Native American methods.
Kachina House is proud to sell a wide variety of Mata Ortiz pottery, all of which is handbuilt and handpainted by the people of Mata Ortiz. Whether you are interested in purchasing a handcrafted pot, one-of-a-kind jewelry, an effigy in the shape of your favorite animal or a wedding vase, there is a piece you will love.
Effigies
Recreations of ancient vessels found in Chihuahua, Mexico, these pieces were created to depict local animal and bird life. The clay vessels range in size from 4 to 10 inches tall and are painted in shades of black, tan and red. From the fierce mountain lion to the wise owls, there are many detailed sculptures to choose from.
Nativity Sets and Ornaments
The perfect gift for the upcoming Christmas season, our Mata Ortiz nativity sets are created in the likeness of people and animals and include the Holy family and three kings with gifts. Each set is unique, with horses, rabbits, javelinas and coyotes available.
Jewelry
Another lovely holiday gift, a variety of sterling silver pendants and earrings are available. Created with shards of Mata Ortiz pots, this jewelry is a beautiful addition to any collection.
For pots, effigies, jewelry and more from Mata Ortiz, visit Kachina House online. Visiting the Sedona, Arizona area? Stop into our showroom to see these intricate pieces in person! We are located at 2920 Hopi Drive.