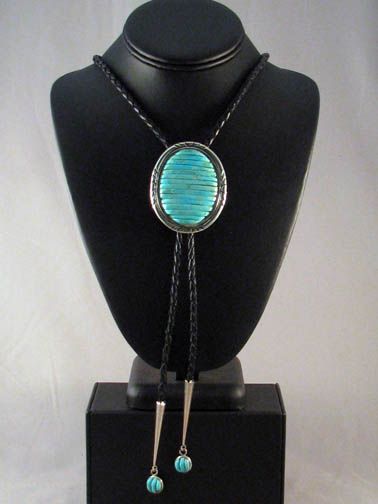 Worn across the Western United States since the early 1900s, bolo ties began as a Native American accessory before becoming the recognizable and well-loved state neckwear of Arizona, Texas, and New Mexico. Throughout the years, they have been called many names including slide ties, cowboy ties, gaucho ties, and neck ropes.
Bolo Tie Origins
Although historians and enthusiasts cannot be sure exactly where the bolo got its start, we do know that some of the most intricate and beautiful pieces have been made by Native American silversmiths.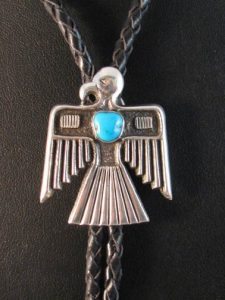 Some of the earliest bolo ties sprung up during the 1930s when Native American men from Zuni, Hopi and Navajo tribes often wore bandanas around their necks. These bandanas were first held together with string, and later with shell-like structures; the first bolo ties.
Created for personal use rather than trade as are many types of Native American jewelry, early bolo ties did not typically include artist signatures and are rare antiques. These bolo ties are recognizable for their inlaid turquoise stones and detailed silversmith work.
Since the 1930s and 40s, there have been a variety of changes and adaptations to the bolo tie, and it has gone in and out of modern fashion – always remaining a staple to the Native American people and many other individuals who live across the Southwest.
Native American Bolo Ties At Kachina House
Home to a wide array of Native American-made jewelry, Kachina House has some beautiful bolo ties that were handmade by Navajo and Zuni artists. Typically made from sterling silver, Native American bolos often include turquoise details and have from a braided leather cord.
Click here to see our current selection of bolo ties or contact our Sedona, Arizona shop by phone at 866-587-0547 for assistance finding a particular style bolo.