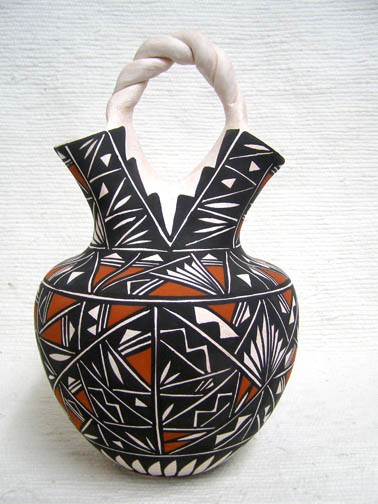 Full of longstanding traditions and beautiful ceremonial acts, Hopi weddings involve much preparation. A key component of many Hopi traditions, corn plays a role in the approving of a marriage as well as the wedding preparations themselves.
When a couple decides to marry, the man must state his intentions to the bride-to-be's family. If the woman's family accepts, she will grind cornmeal to bring to the home of her groom's parents. The acceptance of this gift by the groom's mother represents the beginning of wedding preparations.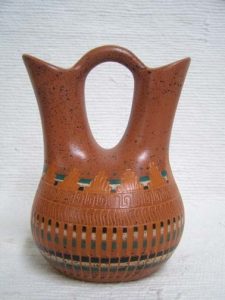 Before the wedding can take place, the bride must stay with her future mother-in-law for three days, grinding cornmeal and preparing food. It is on the morning of the wedding day that these gifts of food are presented, and the bride and groom walk together to the edge of the mesa to pray and witness the sunrise together.
After the ceremonies of the wedding day, two weeks go by before all traditions are completed.
About two weeks from the first-morning ceremony, the bride dresses once again in her wedding clothes and returns to her mother's home in the company of her groom's family. Gifts are exchanged between the bride's and the groom's families to conclude the ceremonies.
Another traditional facet of Hopi and other Native American weddings is the wedding vase. Often built by the groom's parents, the vessel is constructed to represent the couple and the lives they now share.
Here at Kachina House, we are proud to provide a wide variety of wedding vases, handbuilt and handpainted by potters from Hopi, Navajo, Zuni, Mata Ortiz, and other tribes. These vases make beautiful wedding gifts that your loved ones can keep in their home to remember their special day for years to come.

Shop with Kachina House online to find your perfect vase or call our Sedona, Arizona shop at 866-587-0547 for assistance choosing a vase you will love.