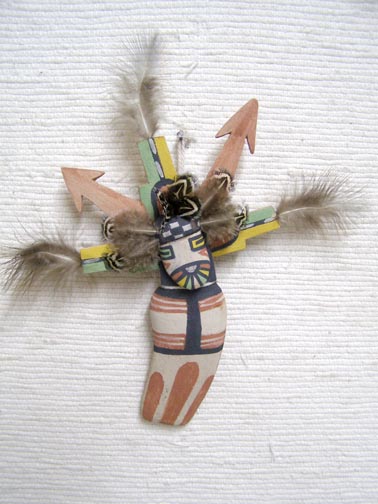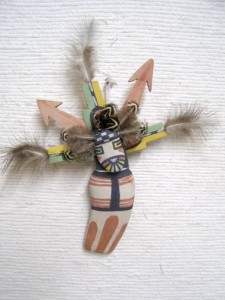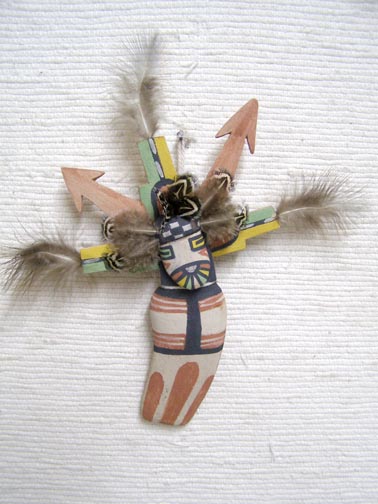 The Butterfly Maiden, called Palhik Mana, appears in August when butterflies appear in Arizona. This dancer is often symbolized as a Katsina doll and takes part in the Hopi Butterfly Dance. A traditional social dance, it is held in late August after the Snake Dance.

Hopi children and young adults participate in the Butterfly Dance while their fathers, brothers and uncles sing. There are 32 songs that coincide with the two-day ceremony and each song has its own movements. The girls and boys dance in pairs, celebrating the gathering of the harvest.

Hopi maidens wear beautiful and elaborate headdresses, called tablitas, throughout the dance. Created by their dance partner, these headdresses are adorned with symbols for corn, butterflies, and prayers, and are retained as a special keepsake of the event. The girls also wear hand-woven sashes and black mantas that are adorned with turquoise beads.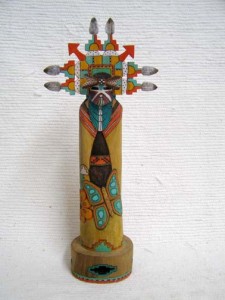 The Butterfly Dance is held as a thanksgiving for the corn harvest and the maidens represent the butterflies that pollinate the corn, helping to bring the crop. While the Butterfly dancers do not usually wear masks or hoods, the Palhik Mana typically does.

The Butterfly Maiden Katsina Doll makes a beautiful gift to celebrate the appearance of the butterfly in August and for girls who are participating in their first Butterfly Dance. With a variety of dolls to choose from, visit Kachina House online or at 2920 Hopi Drive in Sedona, Arizona.

Source: http://www.statemuseum.arizona.edu/exhibits/hopisummer/hopisummer2.shtml