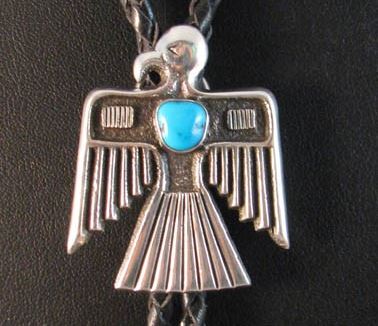 Father's Day is coming up and Kachina House has a unique, Native American-themed gift idea that Dad is guaranteed to appreciate.
Choosing a Father's Day gift can be difficult. We can only purchase so many tools, grilling utensils, dress shirts and ties for Dad before they just don't feel like enough.
If you want to be sure to get your Dad something unique that he will cherish, surprise him with something that he didn't expect to receive, a bolo tie from Kachina House.
Bolo ties are an important part of Native American and southwestern culture and dress, but it's difficult to find an extensive history of them. The bolo tie has been called many different things through history, from the string tie to the emblem lariat, making it difficult to research.
In June, 2016, we wrote a blog post touching on the history of bolo ties. We learned that some of the earliest bolo ties were first spotted in the 1930's, worn mostly by important men in the Zuni, Hopi and Navajo tribes. A bolo tie indicated a man of importance, someone especially deserving of respect.
The modern bolo tie pays homage to these early bandanas worn by Native Americans, making a great gift for the father-figure in your life whom you respect and want to honor this June.
Kachina House has several different bolo ties. Each has a different style and appearance, and you can choose the one that best suits Dad.
Phoenix native, artist Michael Maglich, passed away in 2007. Before his passing, he created several displays of public art including different sculptures. The pieces were titled "A Thousand Points of Light, Artist on a Hot Tile Roof," which referenced a variety of artists, art history, and humor. One of his public art displays, a series that focused on bronze bolo ties, was installed near a section of the light rail that runs past the Phoenix Convention Center.
Looking for more gift ideas? Kachina House has plenty of Native American arts and crafts available.