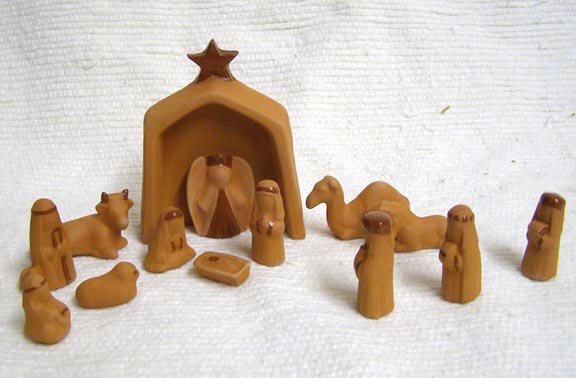 Hanging ornaments on the Christmas tree is a longstanding tradition, part of the ritualistic lead-up as children and adults alike increasingly get excited for the big day. As ornaments are collected throughout the year to mark celebratory occasions, memorable vacations, and new hobbies and interests, that collection inevitably becomes an all-encompassing timeline of a family's life. Native American Christmas ornaments and decorations can add a wonderful artistic touch to any home during the holiday season while celebrating a rich and important part of our human history.
At Kachina House, we offer a variety of Navajo made ornaments. We have red clay horse ornaments, each with a slightly different painted design, or ceramic Indian angel ornaments with folded hands and leather colored clothing. For a more traditional take, we offer ball-shaped ornaments made from horsehair pottery or Navajo etched red clay, some with small wooden handcrafted Kachinas inside. As a nod to the architecture in the southwest we offer pueblo ball ornaments in which a light can be inserted to light up the windows of the adobe homes that are painted on these ornaments. Best of all, because each ornament is handmade, each varies slightly from one to the next at the whim of the artist, making them truly authentic pieces of Native American art.
In addition to the other Navajo creations, we also offer a Horsehair wedding vase ornament. The wedding vase is used in traditional Pueblo wedding ceremonies, and represents the unity of a couple bound by love. It's a great addition to the ornament collection of a newlywed couple.
Of course, Christmas wouldn't be the same without a Nativity, and we offer two Navajo handmade sets that would be a beautiful addition to any home. To put a unique flair on your Christmas decorating, we have several Hopi-carved Clown Katsina figures. The Clown has a complex ceremonial role, giving wisdom and advice as well as poking fun at unacceptable behavior. We have a Clown dressed as a football player and one as a tennis player; both are climbing a Christmas tree to pull the star off the top. We also have a small Clown holding a Christmas package.
Check out these handmade Native American Christmas decorations at the Kachina House store, and take advantage of a limited time 20% off sale on all ornaments.