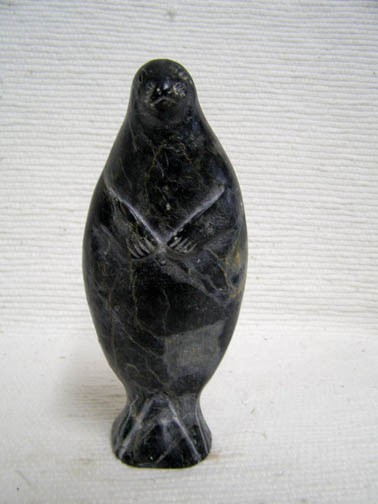 Drastically different in climate than the warm, dry Midwest region inhabited by the Hopi and Navajo people, Alaska is home to a unique array of arts and crafts that have been created for hundreds of years by the Native Alaskan people.
Just as each region of the continental United States has its own style of art, so do the different regions of Alaska.
There are 11 distinct Native Alaskan cultures:
Alutiiq
AthabascanCup'ik
Eyak
Haida
Inupiaq
Lawrence Island Yupik
Tlingit
Tsimshian
Unangax
Yup'ik
Each tribe has its own unique art styles, passed down through generations.
Native Alaskan totem poles
Possibly the most well-known of Native Alaskan carving is the creation of totem poles. Carved by the Tlingit people (among others), these totems are much more than just art pieces – they serve as family crests, used to tell stories and honor the lives of deceased loved ones.
Beautiful collections of Native totems can be found across the state of Alaska, with the largest number of them located at the Totem Heritage Center in Ketchikan.
Fetishes & dolls
Other popular Native Alaskan carving methods include the making of fetishes and dolls.
Small carvings known as fetishes are made by the Inupiaq people as well as other Native Alaskans. Created from materials such as soapstone, ivory and whale bone, these pieces typically depict animals, people and birds.
One such item is the Native Alaskan Carved Marble Seal available here at Kachina House. Incredibly detailed and signed by the artist, the seal was made in 1994.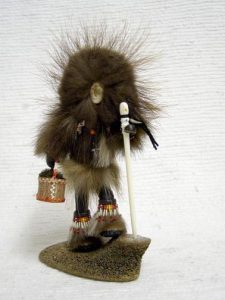 Carved dolls like this Qaviq Woman (crafted by Glenda McKay) are also a common style of art created by Native Alaskan artists. Representative of different aspects of Native Alaskan life as well as characters from stories and legends passed down through tribal history, these dolls are made with precise details and one-of-a-kind features.
Although Native Alaskan art pieces are not as widely available as those from other Native American cultures, we at Kachina House are proud to offer a small selection for sale. For more information, and for assistance finding a particular style art piece, please call us at 800-304-3290!