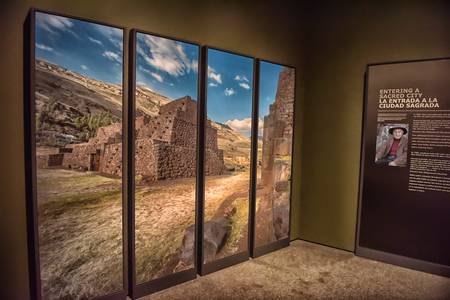 While pop culture often misrepresents Native Americans with stereotypical portrayals, Native American culture is rich and thriving in the States. If you want an authentic experience, you won't have to travel far to check out some of the best places!
Washington, D.C.
The National Museum of the American Indian is one of the Smithsonian museums on the National Mall in the nation's capital. Their collection includes over 800,000 items and features North, Central, and South American cultures. They also have many events each month, from festivals and concerts to one-of-a-kind exhibitions. There is even a Zagat-rated restaurant that serves native food! Mitsitam Native Foods Café was the first Zagat-rated museum café in Washington.
New Mexico
Sante Fe, New Mexico, is the perfect place to find all kinds of beautiful Native American arts. Stop by the world-renowned Indian Market next August to see the most diverse Native American art in the country with many different Native American art and food vendors. The city is home to a large number of fine museums and galleries. For jewelry and crafts like authentic silver and turquoise, visit Sante Fe's historic Plaza. With so much to offer, Sante Fe is perfect for a multi-day trip to experience all the area has to offer.
Oklahoma
Oklahoma is rich with Native American culture. Even the name itself is Native American: the Choctaw words "okla" and "humma," mean "red people." To learn more history, visit the Cherokee Heritage Center in Talequah, which includes a recreated ancient Cherokee village and a permanent Trail of Tears exhibit. During June, Oklahoma City hosts the Red Earth Festival, a three-day event attend by visitors as well as the 400,000 indigenous residents. No matter where you go in the state, Native American culture is influential.
Arizona
Arizona is home to Kachina House as well as the Heard Museum, a diverse cultural center of Native American art and history. The museum also houses the Goldwater Collection, which was gifted by American politician and author Barry Goldwater in 1964. Another museum rich in history is the Museum of Northern Arizona in Flagstaff, home to more than five million Native American science, art, and cultural staples. The state is also speckled with a large variety of ruins that are visited by tourists every year, such as the Hills Forts of the Tonto National Forest and the Tuzigoot, Hatalacva and Bridgeport Pueblos.
If you're looking for authentic Native American arts and crafts without making a trip, Kachina House has all kinds available for purchase, from jewelry to pottery to baskets and more. Shop our collections online today!