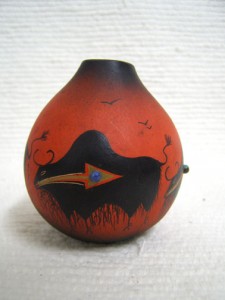 Gourd art is a beautiful creation, common among many Nations and tribes. The artist will dry a gourd over the course of a few months before its ready for painting. The paintings are often based upon ancient petroglyph art.
Since 1978, Robert Rivera has been creating beautiful art with ordinary gourds of all shapes and sizes. He considers each gourd for subject matter based on its shape. Robert has created stunning works including masked Prehistoric Katsinam, Indian dancers and chanters, storytellers, and of course, pots with animals of the southwest adorning the exteriors.
For over 30 years, Rivera has been represented in galleries and has won numerous awards for his talent and artisanship. In fact, he is often considered a pioneer in this medium of art with his ability to create fine art pieces, from elegant to rustic styles.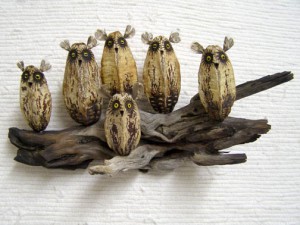 "Robert's amazing and sophisticated use of gourds and other materials to represent the peoples of the Southwest appealed to us almost immediately upon our first encounter with it," said one couple from Minnesota to Susan Regan of Phoenix Home & Garden.
Gourd art shows are popular throughout the continent, and two national nonprofit organizations assist in the education of those interested in gourd art and gourd art history, The Canadian Gourd Society and The American Gourd Society.
At Kachina House, we are privileged to offer some of Robert's amazing works of art. To view some of his pieces, visit our website and see for yourself why he is so acclaimed!