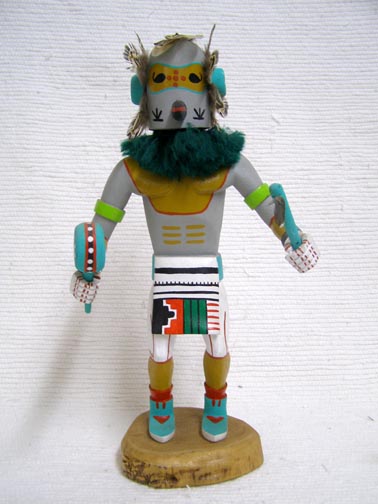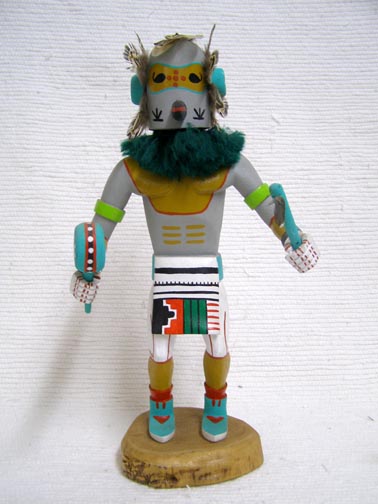 The Hopi people are known for their peaceful nature and isolated lifestyle. Their culture is filled with spiritual reverence and community service. Throughout the life of a Hopi milestones are celebrated with gifts of various Katsinam which are given to mark achievements and honors. The Katsinam play a vital role in ceremonies and celebrations. Katsinam are seen as spirit messengers to the Hopi, able to send prayers for rain, good harvest, and healthy life.
Today, the Hopi Indian Pueblo centers around 12 ancient villages and is home to 7,000 people. Located northeast of Flagstaff, Arizona, the Hopi people maintain a secluded and independent presence. Each village manages to preserve its culture by conducting ceremonies throughout the year in the form of Katsina dances. During these cultural events, the dances are based upon the Hopi Cycle of the Year, otherwise knowns as the Hopi Ceremonial Calendar.
The Winter Solstice marks the beginning of Katsina Season, marking a time filled with ceremonies. Each month is devoted to a specific ceremony and is celebrated with dances at various times of day.
Coming up this April is Kwiyamuya. During this time, racer Katsinam arrive in the village plaza and challenge men and boys to footraces. Turns are taken racing across the plaza. Losing runners are sometimes doused with water or have grease smeared on their faces. Sometimes they'll even be punished with an unstylish haircut. No matter the outcome, the Katsina always awards his opponent with a gift of food and leaves with the message for rain for the spring planting seasons.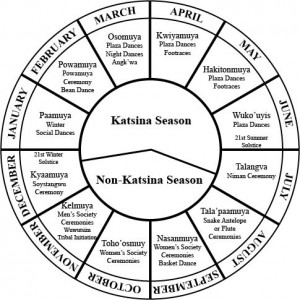 It's during the Kwiyamuya that the trees begin to show signs of life and begin to bud. It's a sign that the earth is ready for planting.
If you are looking to attend a ceremony, dance, or event, some are open to the public. For more information about dates and ceremonies, contact the Hopi Cultural Center. Visitors should remember to be courteous and are prohibited from recording or photographing anything while in the Hopi villages. For more information on visiting during a Hopi ceremony, check out Hopi.org.