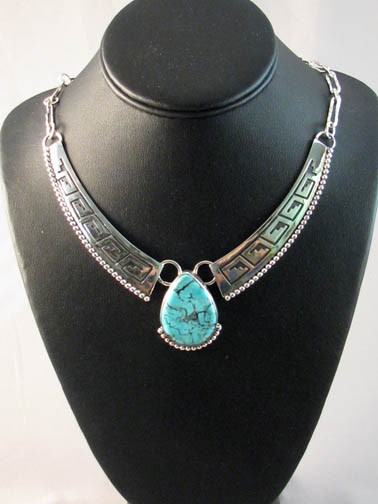 A stone seen most frequently in Native American jewelry pieces, turquoise has been a favorite material to work with for thousands of years. Rich with hues of blue and green paired with brown, black, gold or silver matrix, turquoise is more than just a beautiful stone. It is also a symbol of two of the most important facets of Native American life; water and sky.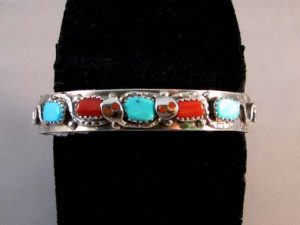 According to Maxine McBrinn, Curator of Archaeology at the Museum of Indian Arts and Culture, "Turquoise stands for water and for sky, for bountiful harvests, health and protection."
Although we typically think of turquoise and silver hand-in-hand, turquoise was a treasured material long before the Native American people learned the silversmith trade from the Spanish. The mining of turquoise began more than 500 years ago, with an abundance of mining using crude tools having taken place between 1350 and 1600 AD.
Because it is a soft stone, the color of turquoise can change with wear. Due to exposure to the elements, this fluctuation in hue led to a belief by many Native American tribes that the stones held healing powers. Some legends stated that turquoise protected its wearer by absorbing poisons from their bodies, while others stated that the color of the turquoise stone an individual wore was an outward reflection of their body's health. Much more than just symbols of beauty in Native American cultures, these brilliant blue-green stones are an important part of many ceremonies and rituals. The Navajo people even give children their first turquoise bead at birth.
Kachina House is proud to offer a wide variety of turquoise necklaces, bracelets, earrings, rings and bolos both online and at our Sedona, Arizona showroom. Browse our jewelry selection here or contact us by phone at 866-587-0547 for assistance finding a particular style piece.