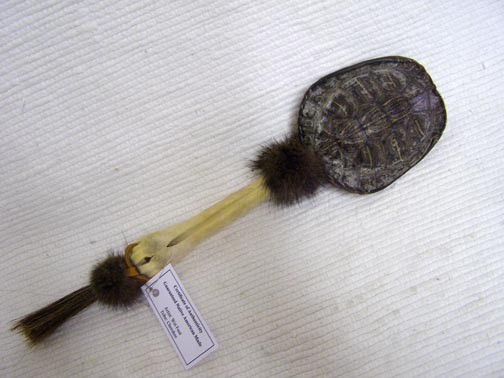 An icon of Native American heritage and an integral component of many ceremonies, dances and Powwows, rattles create an unforgettable sound that resonates deep within us. Used to accompany the drummer's rhythms and keep time for dancers and Katsinam, the sound of the rattle can clear the mind and promote spirituality.
Although tribal traditions differ for how rattles are made, most of them believe that these musical instruments are symbolic of the three kingdoms and therefore made from animal, plant and mineral components.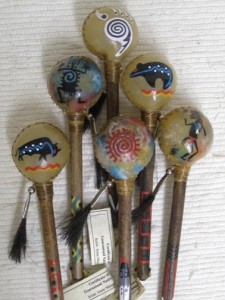 Animals are typically represented with decorative feather accents, a handle made of bone and a turtle shell that holds the seeds and stones that make the rattling sound. Depending on which component of the rattle represents the animal, a gourd can be used to make the rattle or wood can be carved as the handle.
If rocks are used to make the sounds within the rattle, they can account for the mineral aspect; but if not, mineral is often represented through the painting of images onto the rattle.
Here at Kachina House, we have an array of beautiful handmade rattles available for purchase. Created by different artists and utilizing materials such as turtle shell, elk bone and gourd, these rattles make a unique addition to any collection of Native American art.
Shop with us online or visit our Sedona, Arizona showroom if you are passing through the area.