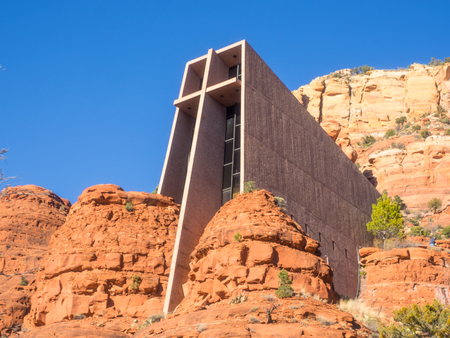 Builders and cultural groups carve stunning sculptures from the Arizona deserts, beckoning travelers from around the world yearly. Here we give you a glimpse into the structures and histories of these architectural giants.
Chapel of Holy Cross

This religious citadel sits between monumental red rocks, and was a gift from Marguerite Brunswig Staude, a sculptress, philanthropist, and devout Catholic, who believed the arts should be in service of spirit. The Chapel of the Holy Cross was built in 18 months and had the dedication ceremony in the spring of 1957. The beautiful design and large anchoring cross that stands the height of the building fit perfectly in the magnificent red rock setting.
Hopi House
The Hopi House at the Grand Canyon is a must-see while on your stay in the area. It is one of eight projects in the Grand Canyon that were designed by renowned architect Mary Elizabeth Jane Colter. Hopi House was modeled after the Oraibi Hopi Pueblo buildings she visited. The Hopi House is a National Historic Landmark that doubles as a two-story gallery and houses a collection of museum artifacts.
Arcosanti
Arcosanti is an experimental desert town located north of Phoenix, often labeled "retro-futuristic" by passersby. Arcosanti was designed in the 70s by Paolo Soleri, with the help of his architecture and design students. This "urban laboratory" which was a place to test his urban design hypotheses became internationally renowned.Soleri wanted Arcosanti to be a learning center devoted to the study of human influence on ecology and architecture. People live in the town year-round to attend workshops and communal activities. If you're looking to get a more in-depth look at the fundamentals behind the project, tours are open to the public.
Taliesin West
Another well-known National Historic Landmark, this Scottsdale "desert laboratory" is the masterpiece of 20th century architect Frank Lloyd Wright, located in the foothills of the McDowell Mountains in Scottsdale. Taliesin West was the architect's winter home in the desert from 1937 until 1959, the year of his death. The home's structure is defined by carved desert rocks and wood forms filled with concrete, and is revered by travelers far and wide.
While in Sedona, stop by Kachina House to learn more about the rich Native American communities that populate the area!