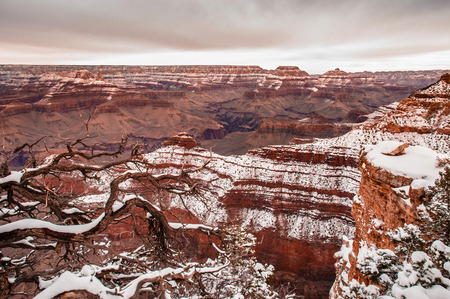 Tourist season is slowing down in the country of red rocks, but many outside adventurists continue to travel to the South Rim of one of the world's natural wonders, the Grand Canyon. While many travelers are accustomed to the sweltering summer heat when enjoying the spectacular views, those who visit during the winter will find the experience to be arguably more eye-opening.
A View that's Out of This World
Because the South Rim is open year-round, travelers are able to take in a breathtaking view of the National Park like no other. The trails are dusted with falling snow, and there's quietness about the air that allows you to better soak in your surroundings. Some of the canyon's resident creatures hibernate for the winter, with the exception of elk, ravens, and bald eagles, which you are sure to spot as you hike Bright Angel Creek, which originates at the South Rim village.
Native American Tribes of the Grand Canyon
The tribal communities that populate the Grand Canyon's South Rim are steeped in Native American history, providing visitors with an authentic cultural experience as they walk along the rim, dip into canyon buttes, and hike the desert trails. On your visit, you will have the opportunity to learn about the unique heritages of the Navajo, Hopi, Havasupai, and Hualapai people. You can learn more about the Hualapai reservation as you walk the Skywalk, a trail located 4,000 feet above the canyon floor. The Navajo Interactive Museum is located east of the Grand Canyon, and here travelers can discover the traditions of one of the largest Native American tribes in America.
While on your stay here in Sedona, make sure you stop and visit Kachina House in Sedona, Arizona's largest distributor of Native American art and artifacts!