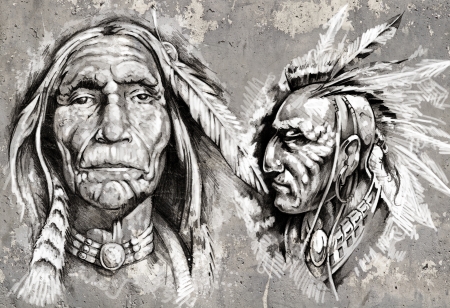 We are intrigued with Native American culture and Native Americans' connection with tattoos. Native American tattoos have always been rich in meaning and in artistry and they have helped shape the body art industry of today.
What tattoos mean to Native Americans
The Haudenosaunee (Iroquois) believed tattoos had healing powers and they would apply them over sore joints or broken bones. Tattoos were often marks of protection with symbols representing guardian spirits. Every Native American had a unique life story so their tattoos were also unique. Over time, some tribes started using tattoos for rituals and art.
Creation of tattoos
Early Native American tattoos were made by scratching or pricking the skin with sharp bones, branches or needles and rubbing soot or crushed minerals into the wound. Many tattoos were created to celebrate an accomplishment. Warriors often featured tattoos on their bodies and on the weapons they carried.

How did tattoos get to where they are today?
As many know, tattoos are becoming more and more mainstream. According to Statistic Brain, approximately 40 percent of Americans have at least one tattoo. Thanks to Native American culture, no matter what far corner of the globe you are from, tattoos are a way to wear your life story on your skin.
Native American Tribes
The art styles of the Inuit used curved lines and images whereas the Hupa, a more southerly tribe, used a mix of geometric shapes and realism to create interesting tattoo designs.
If you don't feel like running out and getting a tattoo, you can still celebrate the Native American culture by viewing all of our beautiful arts and crafts created by indigenous people of North America. We are sure you will be inspired at Kachina House. If you have any questions please feel free to give us a call at 866-587-0547.