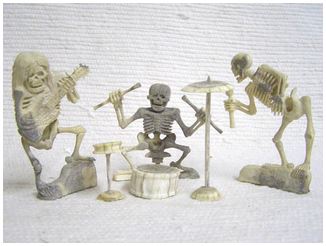 The fall season is well underway and for the Mexican people an important celebration during this time is Dia de los Muertos or Day of the Dead. This holiday focuses on gatherings of family and friends to pray for and remember those who have died. This celebration spans three days, October 31 through November 2. There is a distinct difference between the modern Americanized Halloween with its fright-based theme and the Day of the Dead. Both aim to celebrate the dead; however Day of the Dead is rooted much more deeply with culture and tradition. The celebration is based upon ancient Mesoamerican practices which originated in Latin America. Day of the Dead is a joyous celebration.
In the early 1500s as Spanish conquistadors brought forth Latin and Christian traditions, the death celebrations held by the Natives of Mesoamerica became entwined with pieces of the other two cultures. Today, we think of Day of the Dead as a very Latin American; however, it is still celebrated according to cultural traditions by many cultures throughout the world.
What happens on the Day of the Dead?
During the celebration time, which spans the last day of October and the first two days of November, it is said that the souls of ancestors return home. This joyous homecoming is seen as an opportunity to reunite with those who have passed away and share with them the luxuries of life. Meals are prepared inspired by favorite meals of the dead and shared in the form of offerings on alters decorated with colorful fabrics, gifts and candles. The dead consume the essence of the food; the feast is later enjoyed by the living. Masks are worn by celebrants to honor ancestors. Skulls are used as decorations to symbolize birth, death, and rebirth.
The beauty of the celebration of Day of the Dead is that death is viewed as a continuation of life – simply one stage to the next.
Day of the Dead events:
On October 25th and 26th, The Museum of Northern Arizona in Flagstaff is celebrating the occasion with a Celebraciones de la Gente and Dia de los Muertos festival. The commemoration aims to educate the public on this deeply cultural holiday. This year's event features live music, arts, and storytelling. Ofrendas (altars) will also be on display throughout the museum. Educators will be on hand to teach about the history and culture behind the holiday, and the migration and blending of traditions that has become the contemporary Day of the Dead.
For more information regarding the Museum of Northern Arizona event, visit their website.