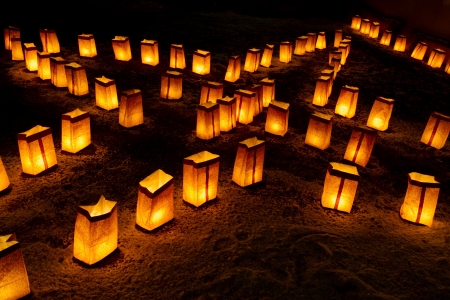 The holidays are a beautiful blend of yuletide charm and spiritual reflection for the people of the Southwest. Here, we explore some of these interesting Christmas traditions.
Pueblo Dances
After the conversion of the pueblo people to Catholicism during the 16th century, a merging of cultures took place. Christmas Mass and spiritual Native American traditions were often tied together in holiday festivities, such as the Deer Dance and Los Matachines, a dance brought to New Mexico by the Moors to teach Christianity to the Pueblo people.
Lighting Displays
There are regional differences in the terms used to describe the holiday lights with which residents of Northern New Mexico line the roads and the outside of their homes. In Albuquerque, these paper bag lanterns are referred to as "luminarias," and in Sante Fe they are called "farolitos." Historically speaking, the luminarias and farolitos date back to the 1800s, when small bonfires helped lead churchgoers to Christmas Mass. The lights were often placed outside on the final night of Las Posadas to represent the journey of Mary and Joseph, who went door to door searching for shelter prior to Jesus' birth. The tradition of the lighting displays continues today.
Holiday Food
Tamales made from masa (dough made from corn) are one of several traditional holiday favorites of the people of the Southwest. Tamales are normally served either steamed or boiled in a corn husk, which is thrown away prior to tamale consumption. The spicy dish can also be stuffed with meat, chilies and cheese. For holiday dessert, many people enjoy eating Mexican wedding cookies; these are tiny pecan shortbread cakes which are addictively delicious.
It's never too early to start thinking about Christmas shopping for your loved ones! At Kachina House this month, we are featuring ornaments and Nativity scenes made by well-known Native American artists. View our selection of hand-crafted pieces today.