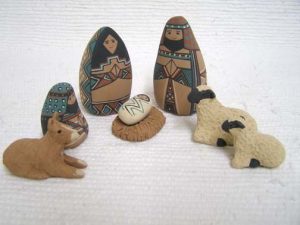 The nativity scene, also known as a creche, is a longstanding Christmas tradition. Many families have cherished heirloom creches, and they are a feature of decorations in homes, churches, and businesses. The classic story depicted in the creche has allowed many artists to create fresh, exciting versions of the standard nativity set. Among them are indigenous artists, who incorporate local materials and Native customs into their nativity scenes. At Kachina House, we are proud to highlight some outstanding examples of these imaginative, beautiful creches.
Creches Are a Longstanding Tradition
According to some historians, St. Francis of Assisi was the first to create a nativity scene in 1223. He created a scene using a wooden crib surrounded by live animals at a church. Since then, nativity scenes have been an important part of every Christmas season. In some cultures, entire rooms are dedicated to depicting not just the nativity story but an entire village depicting local people and places. The first Native American creches appeared in 1961. That year, the International Museum of Folk Art showed a Native American nativity set as part of its exhibit.
What's Special About a Native American Nativity Set?
Native artists use their customs, beliefs, and history to create these creches. Many include animals of symbolic importance to Native people, such as bears, buffalo, wolves, and eagles. They feature figures wearing Native clothing. Some use a tipi or adobe house for the stable, and all reflect the artist's distinctly Native style. They may be crafted from local woods or clay. The Pueblo people call these sets by their Spanish name, nacimientos.
Pueblo Pottery
Pueblo pottery is one of the finest and best-known Native crafts. Making pottery is a tradition among the Hopi, Mojave, Pueblo, Navajo, and Yuma people. This pottery is known for its use of local materials. It is always crafted, sanded, and painted by hand. The artisans use natural pigments and fire the pottery in an outside pit. Artists represented at Kachina House still use these techniques. Each Casas Grandes nativity set in our collection is a unique, handcrafted item.
Find a Casas Grandes Nativity Set
At Kachina House, you can find a wonderful selection of Casas Grandes nativity sets. There is truly something for every style and mood.
A beautifully detailed, five-piece Nativity Set by Mata Otiz artist Tomas Quintana features Mary and Joseph in Pueblo clothing and a donkey decorated in traditional Pueblo colors. Fellow Mata Otiz artist Debi Flanigan has created a Rabbit Nativity Set. It features a rabbit family dressed in Pueblo scarves. The 9-piece set comes complete with a rabbit baby Jesus. If you want a true taste of the southwest, it's hard to beat the equally charming Javelina Nativity Set. Also by Debi Flanigan, it features a javelina holy family and three "kings" wearing cowboy hats.
Shop Kachina House for All Your Christmas Decorations
Shop Native American Christmas ornaments and nativity sets, which are cherished pieces for holiday decorating and gift-giving.