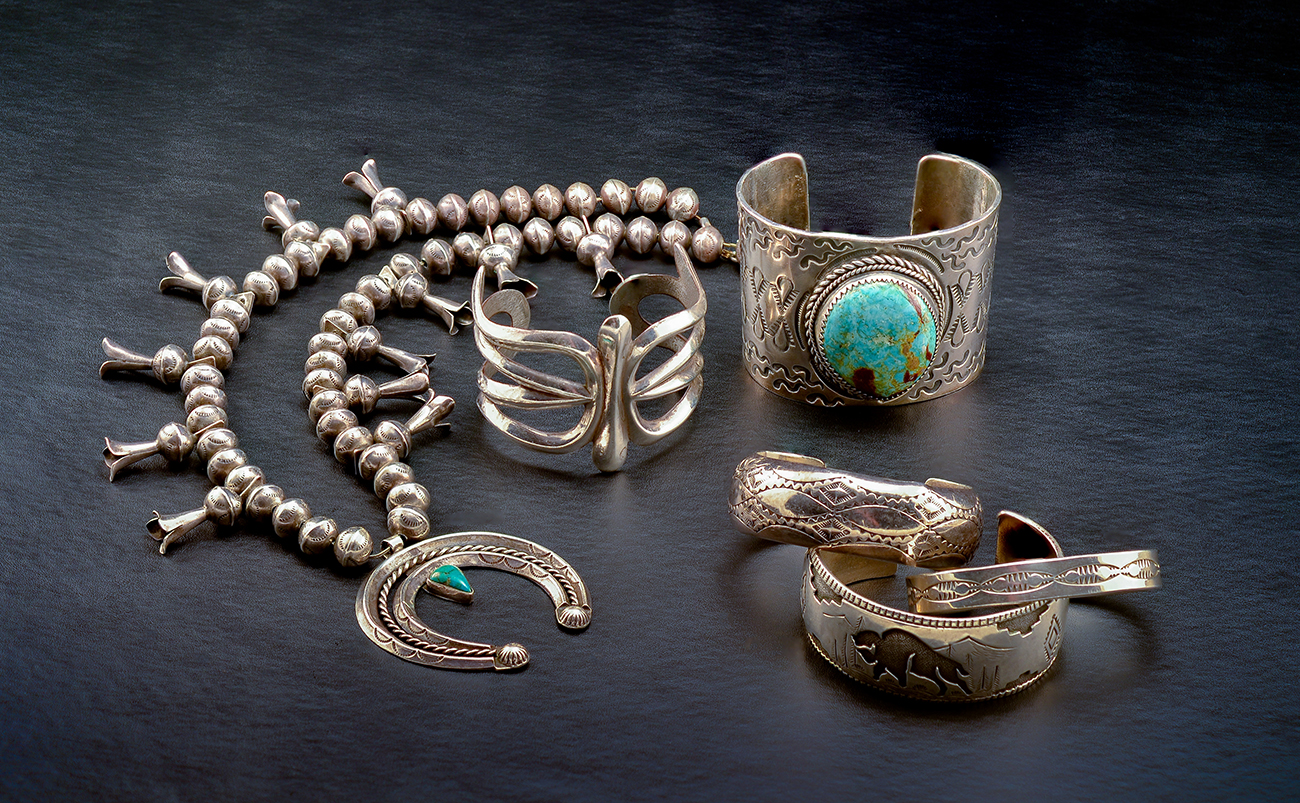 A Brief History of Hopi Jewelry
The Hopi people are renowned for their spirituality and their skill as silversmiths. These two characteristics come together to create jewelry that blends tradition, spirituality and exquisite workmanship.
Distinctive Features of Hopi Jewelry
Hopi jewelry often features animals, important to the Hopi as spirit guides. Other common themes include fertility, represented by crops and plants, and the spirit world, represented by Katsinam or prayer feathers.
The truly distinctive feature of Hopi jewelry, however, is the use of the overlay technique. In this technique, the artist uses two sheets of silver. The jewelry maker etches a design into one sheet, then cuts out part of the top sheet to allow the design to show through. The artist then solders the sheets together.
In a typical Hopi piece, the top layer is highly polished, and the bottom layer is unpolished. Over time, the silver develops a patina caused by oxidation. It is a unique, striking look.
Early Trade In Jewelry
Many people think of the classic turquoise and silver combination when they think of Native American jewelry. Turquoise is sacred to Native American artisans, who call this gemstone "the stone of life."
While Native Americans always traded jewelry with one another, the Zuni and Navajo tribes were the first to craft rings, necklaces and other jewelry items to sell. These pieces featured finely detailed work and polished stones in shades of blue and green. In the late 1800s and early 1900s, people interested in Native American crafts made the Zuni and Navajo tribes famous owing to their jewelry. These same jewelry buyers largely ignored the Hopi jewelry makers.
An Extraordinary Woman
That all changed when an extraordinary woman named Mary-Russell Ferrell Colton moved to Arizona. Originally from Pennsylvania, Colton founded the Museum of Northern Arizona in 1928. She became fascinated by traditional Hopi crafts, including weaving, textiles, Katsinam and silversmithing. She spent years studying these crafts, writing about them, and collecting Hopi artifacts.
Her paintings show enormous appreciation for the natural beauty and the Native American residents of her adopted state. Among her many initiatives was the Hopi Craftsman Show, which she founded in 1930 to introduce Hopi artisans to the world.
A Lasting Legacy
She encouraged Hopi silversmiths to develop their own style in order to stand out among the other tribes who made jewelry. In response, Hopi artisans began using their pottery, textile and Katsinam symbols in the jewelry. This would make the Hopi overlay stand out as its own unique craft. This style is still known as the Hopi overlay.
The Hopi Craftsman Show continues as a vibrant display of Hopi art to this day. A celebrated artist and ethnographer, Colton was inducted into the Arizona Women's Hall of Fame in 1981.
Celebrate Hopi Artists at Kachina House
At Kachina House, we are proud to carry a wonderful selection of jewelry made by well-known Hopi artists. As the largest distributor of Native American arts and crafts in Arizona, we carry the finest Hopi artworks, including jewelry with the distinctive overlay technique. We also sell genuine vintage jewelry you won't find anywhere else. If you want the stunning look of silver inlay, visit us at our showroom or online.