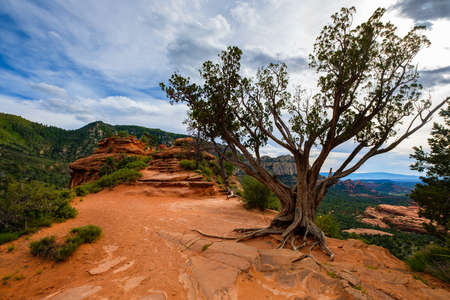 Visitors to Sedona, Arizona report feeling at peace after visiting one of the Sedona vortexes that exist in various parts of the city. These centers of natural beauty are awe-inspiring to the spiritual sojourners who are drawn into their depths.
The Sedona Vortexes are conducive to healing, self-exploration, and meditation, and we highly recommend a visit to these energy centers on your next trip.
Healing Powers
When you step into one of the Sedona vortexes, many can feel the energy swirling above and down into the earth, and it's not uncommon for those who visit them to leave inspired, recharged, and uplifted in some way by the energy they receive.
Sedona is a unique community in that many of its locals promote alternative healing practices that help people on their paths of self-enlightenment. It is also a very spiritually-populated place filled with wellness shops, spas, and spiritual associations devoted to metaphysical studies.
Touring the Vortexes
Tourists make their pilgrimages to these sacred sites for many purposes. Some travel to meditate or do yoga, and some travel to simply feed off of the swirling energy. If you are visiting these sites for the first time, we encourage you to take a guided tour with an instructor or expert on the vortexes.
Sedona's mystical qualities are building bountifully on its reputation as a giant vortex itself. But there are specific spots where travelers are better able to tap into these energy pools. These sites are located at Airport Mesa, Cathedral Rock, Bell Rock, and Boynton Canyon.
Kachina House is grateful to operate within a city known for its spiritual quests of enlightenment and transformation, and the specialized Native American art, books, and pottery that we sell contain more of the mysticism that is forever captivating visitors. Call us at (928) 204-9750 today to hear about the Native American artists who work closely with us in teaching people about everything the beautiful communities of Arizona have to offer.