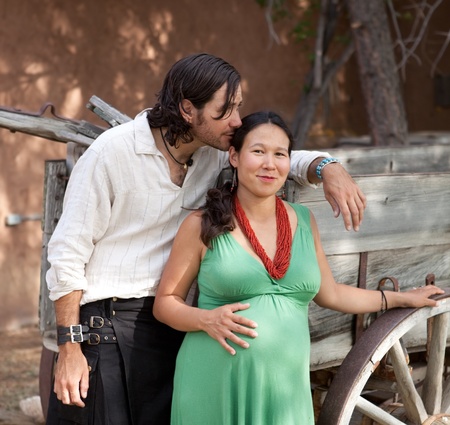 Unlike today's western civilization, where droves of people flock to social media sites to find life-long companions, the Native American people courted in a more localized fashion. While the ritual was displayed publicly, the men and women were able to forge an intimate bond that carried significant meaning within their tribes, as courting rituals often involved members of the extended family.
The Courting Blanket
It was customary for a Native American man to approach his mother about the woman he loved. The female members of his family would weave a special blanket for the man to present to the woman of his fancy. In front of other tribe members, the man would wrap the woman in this blanket and whisper to her as a sign of affection.
Cherokee Crane Dance
During this special ritual which lasts two or three days, women of the Cherokee tribe dress in colorful traditional regalia and perform a slow, elegant dance for the Native American men. This opportunity gave the men of the tribe a chance to assess the pool of available mates.
The Lakota Love Flute
Native American men serenaded the women they wished to attract with the wooing sounds of the love flute. Based upon the legend of a shy buffalo hunter who won the affection of a woman, this cedar flute is normally played solely for the purpose of courtship, and its distinct sound, as tender as a bird call, travels far and wide, alluring many to its hauntingly beautiful bellow.
Native American men also gave women and their families gifts as a way of strengthening the bond. Gift a piece of our handmade jewelry to the women in your life and let them know their connection is meaningful to you.