On November 7th through 10th, buyers for stores all around the country will meet at the Gatlinburg Convention Center in Gatlinburg, Tennessee, surrounded by the beautiful Great Smoky Mountains, for the opportunity to preview the finest products available. Trade shows have attracted buyers and vendors to this location in Tennessee for almost 50 years, providing an extraordinary opportunity to shop from hundreds of vendors in one convenient location.
Kachina house is proud to be an exhibitor at the Smoky Mountain Gift Show, bringing visually stunning Native American made artifacts, pottery, and Navajo Kachinas all made in the USA. If you are unable to visit our showroom/warehouse in Sedona, Arizona, we have a wonderful selection available online.
At the trade show, buyers will see the finest Native American arts and crafts and will hear amazing stories about the creation of the pieces. Meet the owners of Kachina House and experience firsthand the love they have for what they do and how important the crafts, art, vendors and customers are to them!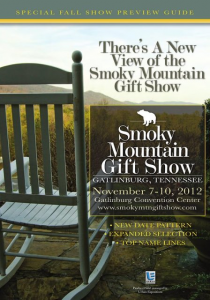 [Source: http://www.urban-expo.com]
For More Information Please Visit or Call:
(678) 285- 3976
Visit us during the show hours:
Wed. Nov. 7-Fri. Nov. 9:
9:00 AM – 5:30 PM
&
Sat. Nov. 10
9:00 AM – 4:00 PM
Gatlinburg Convention Center
Gatlinburg Convention Center (including the W.L Mills Conference Center)
234 Historic Nature Trail /Airport Road
Gatlinburg, TN 37738