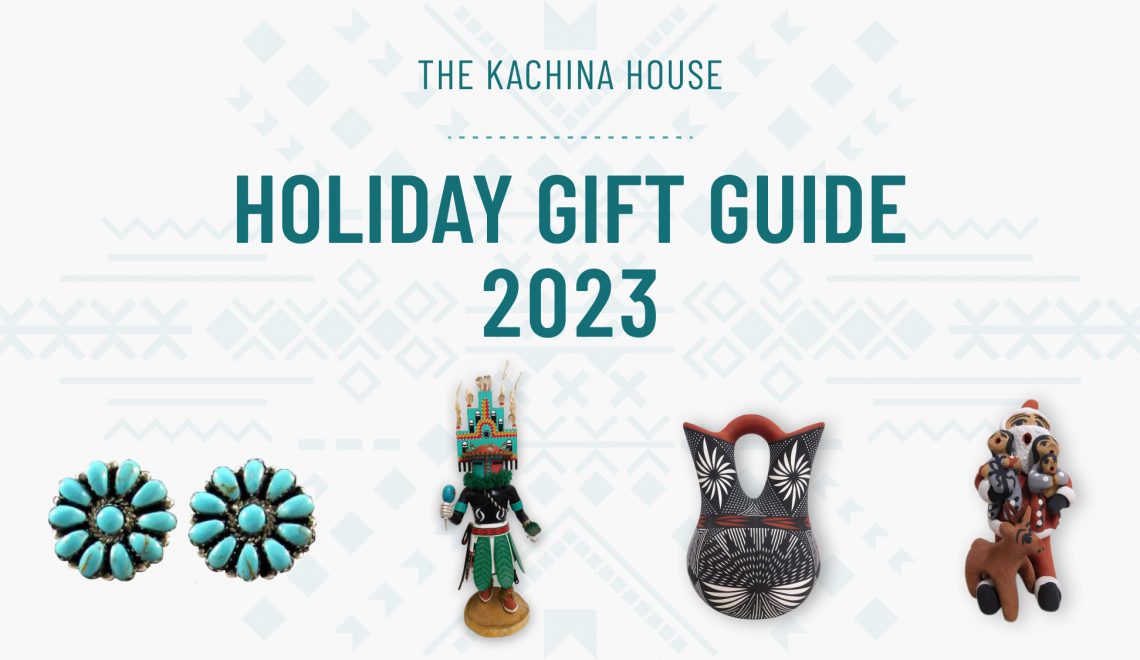 As the temperature drops, we know that the holidays are just around the corner. There are undoubtedly people on your list for whom you know exactly what to get. There are others for whom you have no idea what to get. Kachina House is a great place to find that unique and special gift that will express your thoughtfulness and care. 
To help you get started, we've curated a diverse collection to help you choose the perfect gifts for your friends and loved ones. In this year's gift guide, we've handpicked some of the most popular items, ensuring that you'll find something that resonates with your recipient's unique tastes. From traditional Katsina dolls to exquisite jewelry, you'll find the perfect gift at Kachina House.
Jewelry
Native American jewelry is beloved for its exquisite beauty and intricate designs. Our collection includes an array of bracelets, earrings, pendants, and more, all created by skilled artisans. Whether you're seeking a simple piece or a truly elaborate one, we have the perfect one.
Katsina Dolls
These creations, integral to religious ceremonies among the Hopi and other Pueblo peoples of the southwestern United States, are traditionally crafted by Hopi and other Pueblo men from materials such as wood, fabric, and feathers. These dolls are gifted to both children and adults. At Kachina House, we offer a wide selection of Katsina dolls, each with its own distinct story.
Baskets
Renowned for their beauty and durability, Native American baskets are a testament to the artistry and culture of their creators. At Kachina House, we offer a diverse collection of handcrafted baskets, each boasting a unique design that will enchant any admirer of Native American art.
Jewelry Keepsake Boxes
A handcrafted jewelry box provides an elegant way to store and showcase your most cherished pieces. Our range of keepsake jewelry boxes features multiple styles with unique designs, making them excellent gifts for those who adore Native American or any other jewelry.
Dreamcatchers and Medicine Wheels
Our extensive selection of dreamcatchers come with their own unique symbolism and significance. The medicine wheel, a widely recognized Native American symbol, serves both as a decorative piece and a wish for good health. These meticulously handcrafted items make thoughtful gifts for anyone on your list.
Pottery
Highly prized for their craftsmanship and beauty, Native American pottery pieces are a remarkable gift choice. Kachina House offers a wide selection of pots, vases, and other handcrafted clay items that will delight any lover of Native American art.
Native American Christmas Items
The holiday season is a time of joy and celebration, and what better way to revel in it than by giving gifts that embrace the culture and traditions of Native American people? Our selection at Kachina House includes a wide variety of Christmas items, from nativity sets, to ornaments. Whatever you're in search of, you'll find ideal gifts for your loved ones in this holiday season.
Get started on your holiday shopping and make Kachina House your first stop! Discover the perfect gifts for your friends and family. Our wide selection of unique items guarantees that you'll find something special for everyone on your list so, why wait? Start shopping now and make this holiday season the most memorable one yet!
Happy Shopping!